1DAY AdvantEDGE1
Credit Approval in 24 hours2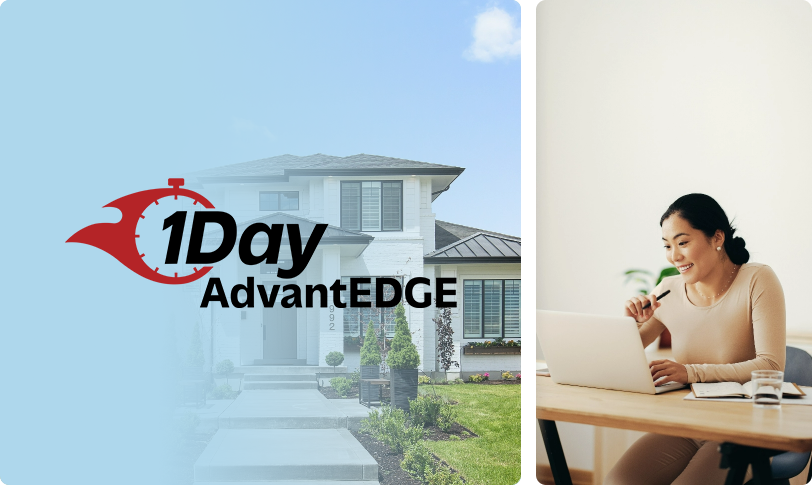 How 1Day AdvantEDGE works
If you qualify for 1Day AdvantEDGE, you could expect to be approved for a loan in a day
Here's how it works:
Complete your online application and submit all required documentation through the automated data verification process.
Our underwriting system verifies all of your assets.
Your approval letter arrives in your inbox within 24 hours. The faster you get your mortgage approval, the closer you are to closing day! Apply Now to get started.
Qualifications and Benefits
Eligibility requirements of the 1Day AdvantEDGE program include:
Are a W2 employee or have a verifiable fixed income such as a pension, Social Security, disability, etc.
Are not relying on any self-employment or rental income to qualify.
Do not own, and are not in the process of purchasing, real estate other than your primary residence.
Submit initial application and required documents via PrimeLending's online application portal.
Meet eligibility requirements for a conventional/conforming home loan.
$250 lender credit3
Show sellers your offer is serious
Online application process
Stand out from other buyers
Why Primelending
In today's fast-paced real estate market, you need a lender you can trust to help you win. I'm proud to be part of this company and share the reasons we are one of America's leading mortgage lenders.
Putting People First
For more than 35 years PrimeLending, a PlainsCapital Company has innovated the homebuying experience; always putting our focus on people, their homes and their financial well-being.
Service Beyond Expecatations
We believe that purchasing a home should be a positive experience. That's why we strive to make the process as simple and stress free as possible.
Expertise and Support
We will be by your side throughout the entire mortgage process and are supported by a local team dedicated to helping us get your loan across the finish line.
Connect With Us to Get Approved